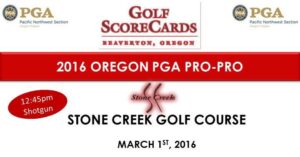 Thank you to everyone that joined us out at Stone Creek Golf Course for the 2016 OPGA Spring Meeting this morning.  It is always nice to get an update first hand and hear about all of the great things that are happening all over the state within our chapter.  Our committees are hard at work to deliver what the membership is looking for while.  Today, we heard that our current OPGA President, Sean Fredrickson, will be running for the PNW PGA Secretary position that will open up this Fall.  Sean would make a great addition to the already talented PNW Section Board of Directors.  Please be on the lookout for more information about Sean's pursuit of being elected as the PNW Secretary.
After our meeting, for those that did not want to play, we have an education opportunity for them.  Thank you Carol Pence for helping our golf professionals with the "How to Negotiate More Effectively" seminar.  These are great seminars to help us get better when we are looking to better out livelihoods.
The golfers then all took to the golf course for the Pro Pro Golf event.  We had a number of players cancel due to weather, but it was not actually better than forecasted.  The winds were only blowing 20-25 mph and the hail and horizontal rain was only temporary.  Thank you again  to all of you that stuck it out and chose to stay and play.  Here are the final results from today's event.