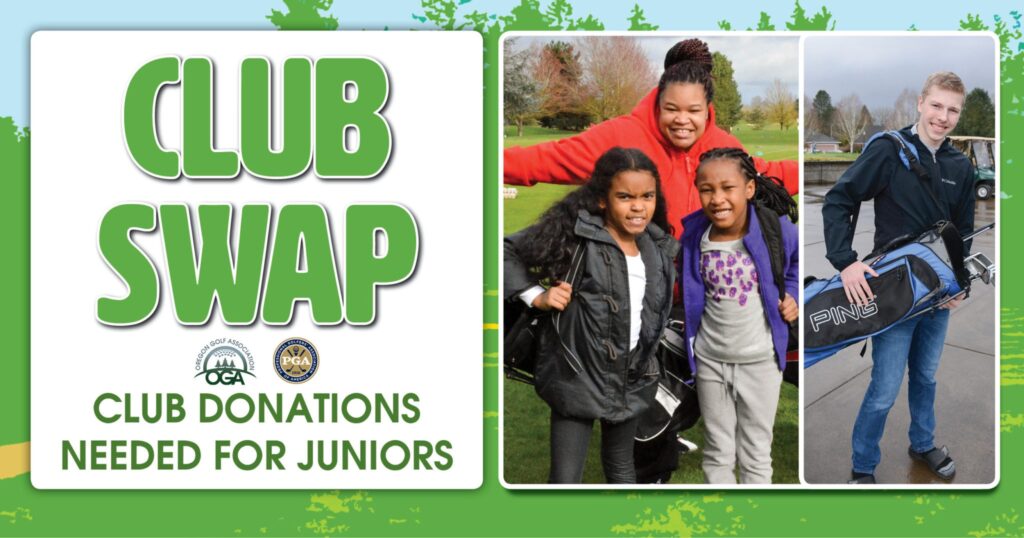 In partnership with the Oregon Golf Association the OPGA requests your assistance with the 3rd Annual Junior Golf Club Swap!  On Saturday, March 3th 2018, from 10:00am to 3:00pm at the OGA Golf Course, juniors will be able to swap old clubs for new ones for NO COST!
~WE NEED YOUR HELP IN COLLECTING THE FOLLOWING:
NEW OR USED JUNIOR, WOMEN OR MEN APPROPRIATE SETS
GOLF BAGS
Our goal is to have each junior leave the event with either a better set of clubs or a starter set of clubs. To prepare for this titanic event, the OGA and OPGA need your help collecting new and used golf sets as well as golf bags.
All donations will be tax deductible! (Form to be distributed later)
Attached you will find marketing material geared toward requesting donations.  We are asking that you please post or share this at your facilities.
We are in need of sets of golf clubs for this event, so if your members / course have clubs that you would like to donate, please email OGA Assistant Tyler Morse, tmorse@ogagolfcourse.com, to schedule a pickup date for the donated equipment prior to the event.
We have Club Swap drop sites available all over the state for your convenience.
Portland Metro Area
Camas Meadows Golf Club (Camas, WA)
Glendoveer Golf Course (Portland, OR)
OGA Golf Course (Woodburn, OR)
The Reserve Vineyards Golf Club (Aloha, OR)
Mid Willamette Valley
Illahe Hills Country Club (Salem, OR)
Trysting Tree Golf Course (Corvallis, OR)
Central Oregon
Bend Golf & Country Club (Bend, OR)
Juniper Golf Course (Redmond, OR)
Oregon Coast
Astoria Golf & Country Club (Warrenton, OR)
Ocean Dunes Golf Links (Florence, OR)
Southern Oregon
Rogue Valley Country Club (Medford, OR)
Roseburg Country Club (Roseburg, OR)
In an effort to make this event successful, we can use your help on this day.  Anyone who volunteers will earn MSR's.  Please contact OGA Head Professional Mark Keating, mkeating@ogagolfcourse.com , or Executive Director of the OPGA Chapter Dominic Marconi, dmarconi@pgahq.com to volunteer.